Thank you for visiting Memo. I'm glad you're here.
This company, quite literally, began in a box — a jewelry box, that is. I've always loved beautiful fine jewelry but the traditional shopping experience left something to be desired — pieces were often intimidatingly behind glass cases or starkly online with little explanation. I wanted to connect with jewelry — and its designer — in a deeper, more meaningful way. It's such a personal accessory.

I knew of a long-standing tradition in the jewelry world where stores lend luxurious pieces to top clients "on memo," allowing them to try things at home before purchasing them. This allows customers to see designs in their own environment, removed from the pressure and constraints in-store. The concept inspired me. I wanted to bring that level of intimacy and accessibility to women everywhere.

Enter Memo, a destination for you to truly discover and experience covetable designer fine jewelry. Jewelry made by independent artisans who value true craftsmanship. Jewelry that tells a story and elicits conversation. Jewelry that inspires and enhances the individual who wears it. Jewelry for special occasions and day-to day-to-wear (they aren't mutually exclusive in my book).

Here's how we work: Explore our collections and order pieces "on memo" at no cost, to experience at home for three days. Try them on with your favorite cocktail dress or with jeans and a t-shirt. Appreciate the craftsmanship up close. If you love a piece, buy it and make it yours. If you don't, simply send it back. Either way, I hope the Memo experience inspires you to experiment with jewelry, an accessory that has long been deemed too precious to try.

My promise is this: Memo will always be about you, our customer, and the talented designers with whom we partner. It's about building ways for you to discover, celebrate and connect with jewelry. It's about sharing the inspiration and artistry of each piece and how that makes you feel. Because ultimately, the person who wears the design completes its story — you.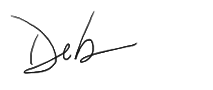 Debora LaBudde
Founder & CEO